The Storyteller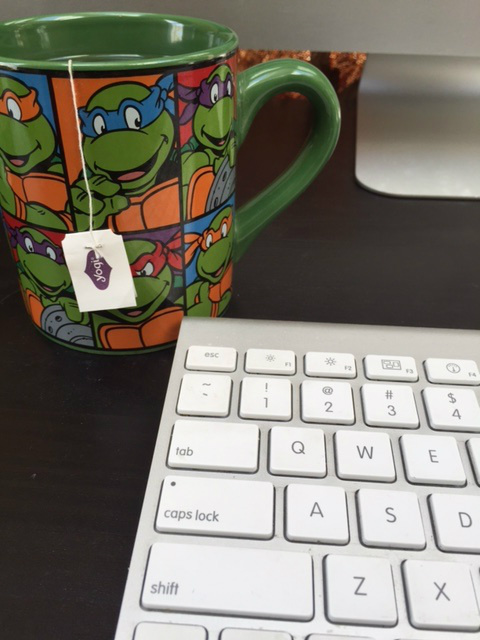 I wrote a blog this week and decided to shelve it in favor of another train of thought. Hopefully, I'll get back to it. This is the second time this particular idea has taken a back seat. Maybe it's not such a great subject, I always seem to be kicking it to the curb. It's not that it's such a bad little topic, it's just that something better always comes along. My insights and realizations are like that, they show up, unannounced, and invite themselves into my psyche, where they take up residence until I give them their due. Anyway, the big insight, the pressing topic that strong-armed the poor unsuspecting, second fiddle topic out of the way again, is that I'm a storyteller. If you're following my blog, that's not a revelation, but there are a couple of big-ticket stories from the past that I've been prompted to tell.
The first one is about the road to writing. Telling stories didn't always come easily, in my youth, having to write anything was akin to extracting one of my own teeth. But now, you give me a cup of tea and a keyboard and you can't shut me up. The beginning of me as a writer was a gift of sorts. It was a switch that my older brother, Tim, flipped on for me. He was my best bud growing up, it makes sense that he would have a hand in such a thing. The first story I ever wrote came to me the week he died, (he was barely into his 30s.) Tim was struggling through a cancer death and our family was taking turns covering shifts at the hospital. The delirium of death was putting him into a state of having to be strapped to the bed, unless someone was with him, and the women in our family refused to let that happen. Death is hideous enough without making it any uglier. I'm a night owl, so I took most of the night shifts. Those wee hours, the time that spanned from 3:00 a.m. until daybreak, where a bit challenging. To stay awake, they needed filled with something that would keep me moving, otherwise I would have been down for the count. At the time, I was making a wedding gift for some friends, (a person who follows this blog, btw, hey, Kare Bear.) It was an antique lamp with an updated shade that I was weaving by hand. 1200 feet of cotton thread kept me awake. In the middle of the night, while my fingers were flying, my mind took off at a full gallop. A story came racing into my head and was defined over a two-night span. It played out as a movie, I could see it clearly, it was just waiting to be documented. The person who had a robust repugnance for writing, somehow needed to get it all recorded. Oy.
After Tim passed, I was the designated family member to fly his ashes to San Francisco, where my oldest brother, Thom, lived; Tim wanted to rest in the Pacific. On the five-hour plane ride across country, I wrote the entire story on index cards. Literally, I wrote non-stop for five straight hours, one card and scene at a time. I finished as the wheels came down for landing. That was the beginning of my storied career, (pun intended, I couldn't help myself.) And I thank my brother, Tim, for the push. Writing has pretty much been a compulsion from that day. The card catalog of my personal library has screenplays, short stories, poetry, a novel, and now I've landed here, in Blogsville. The Read, has presented a seismic shift in my writing, now it's personal instead of fictional. And it's made me realize that some of the craziness of my life might be worth sharing.
The catalyst for the poor little topic being derailed is story number two. It was delivered as BK was recounting the time we found ourselves at Ground Zero, two weeks after the attack of the World Trade Center. Once a year we took a family trip to NYC to see a Yankees game. We're die-hard fans. We had purchased tickets during the summer for a late season game. Then, the buildings crashed to the ground. As much as we loved our trips, we decided to forego the game, NY didn't seem like a safe place to be taking the kids. That is, until we saw a commercial with Rudy Giuliani encouraging people to visit New York, to come and support the city. It was all we needed to reinstate our plans, our annual Yankee Stadium visit was back on track.
Like most families, we spent the days surrounding the tragedy glued to the television, saturating ourselves with news reports replete with gut wrenching images of the twin towers' collapse. The firefighters and volunteers were so selfless, pushing beyond what seemed humanly possible to bring closure for the families involved. We were going to be there in a few days, seemed like we should do something to help. So we did the only thing that seemed reasonable, we baked. I'm a bit challenged in the kitchen when it comes to meals, but I can bake with the best of them. Our kitchen became a cookie factory. Equipped with baggies of goodness, we would bring a little cheer to the volunteers. It was a bit of a nutty plan, but homemade cookies are medicinal. (I believe that's a fact of the American Medical Association.) Maybe they would do some good.
Game day arrived and we packed up for the trip into the city. We stayed in New Jersey and trained into Manhattan for the game. It was the only way we could afford a trip to NYC, and it worked just fine. Until we found ourselves on the New Jersey Transit, half way into the hour long trip with no bag of cookies. Over three hundred of our little friends were sitting in a large gift bag, back in the hotel room. I was devastated, but resigned to the fact that it would be insane to go back and get them. God bless BK, even though he was beyond annoyed at the prospect, and to this day calls them, "Those fucking cookies," he knew the time and the heart that had gone into our silly little offering and to the groans of three anxious, prepubescent Yankee fans, he said we were going back. This was no short trip or inexpensive errand, it meant we had to pay for the train all over again, for all five of us. But he took one look at my face and he turned us all around.
By the time we finally made it to Penn Station in Manhattan, the kids had another blow, up to that point they were fine with the idea of doing something for the rescue workers, until they found out we had to go all the way downtown before we could head uptown to the Bronx. Especially considering the limited subway access. There would have to be a lot of walking before our mission was accomplished. The complaining started in full force, they wanted this nonsense over as quickly as possible, and there was going to be nothing quick about it. You never saw three more disgruntled kids. Then we hit the monuments.
It's notable the first time you watch your children consumed with compassion for complete strangers.
As we got closer to Ground Zero, gripping, block-long memorials covered the walls of numerous buildings. They didn't want to hurry up and get our donation over with anymore, they wanted to read the letters and cards and drink in the faces on the posters. Before long, Shay was in tears and the boys had no more complaints. The tragedy was real, the faces and the pain had names.
When we finally got down to the site, the streets in lower Manhattan were otherworldly. Thick gray dust coated everything. It looked like a colorless war zone. The National Guard ruled the streets. It was like nothing I've ever seen before. There where wall-to-wall people standing across the street from the World Trade Center. Barriers were erected to keep the crowds at bay. I got the attention of a police officer to hand him the bag of cookies and he took one look at our kids, moved the barrier and escorted us across the street into St. Paul's Church, the refuge for the workers.
We were late to the game, but no one cared. Our children, at 9, 11, and 12 grew up beyond their years that day. With a little help from a bag of those…cookies.
That storied career I mentioned includes my first book. It's a screenplay that morphed into a novella. From Time to Time, is a quick and, (enter shameless self-promotion,) entertaining read. If you're interested, you can find it at two locations; Amazon, for Kindle, and Smashwords for multiple formats, including a PDF doc you can read on your computer.
http://www.amazon.com/Time-Susan-Thornton-ebook/dp/B00DVRBBQ6/ref=sr_1_1?s=books&ie=UTF8&qid=1431904704&sr=1-1&keywords=from+time+to+time%2C+susan+thornton
https://www.smashwords.com/books/view/156329
If you're interested in receiving an email with a link to my weekly blog post, you can register at: